The BHC Portal is a modern, easy-to-use, and secure Electronic Medical Record (EMR) system designed for behavioral health practices of all sizes. It offers a comprehensive solution for managing patient files, billing, and various other aspects of a healthcare practice​.
Key Features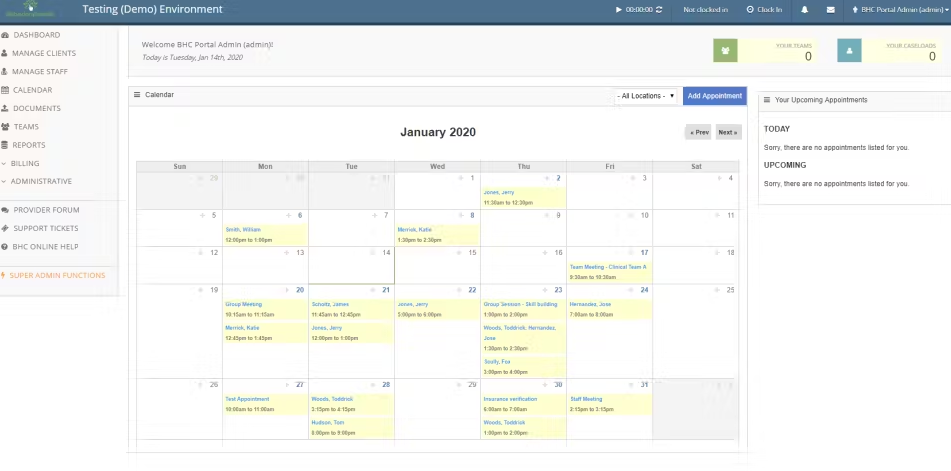 The BHC Portal comes with an array of features that help streamline the operations of a behavioral health practice:
Appointment Management: Efficiently schedule and track patient appointments.
Billing Management: Manage your billing process seamlessly.
Clinical Workflow: Streamline your clinical processes for better efficiency.
Document Management: Organize and manage your important documents securely.
Insurance and Claims: Manage insurance details and process claims efficiently.
Medical Templates: Pre-made templates to facilitate quick and accurate documentation.
Patient Demographics: Record and manage details about your patients.
Patient History: Keep a comprehensive record of your patients' medical histories.
Referrals: Track and manage patient referrals.
Reporting and Analytics: Generate insightful reports and analyze your practice's data.
Scheduling: Efficiently manage schedules for your practice.
Technical Specifications
| Specification | Details |
| --- | --- |
| Delivery Platform | Cloud |
| Compliance | HIPAA, ICD-10 |
| Specialty | Mental and Behavioral Health |
| Practice Size | Solo Practice, 1-10 Physicians, 11-50 Physicians, Over 50 Physicians |
| Additional Information | Web App |
Conclusion
The BHC Portal is a robust and user-friendly EMR system that provides an all-in-one solution for behavioral health practices. Its wide range of features, from appointment and billing management to document management and reporting, makes it a versatile tool for any practice. Being cloud-based and compliant with HIPAA and ICD-10, it ensures the security and privacy of patient data while providing the flexibility of accessing the system from anywhere. Whether you are a solo practitioner or a large practice with over 50 physicians, the BHC Portal can cater to your specific needs.