Above-ground pools are distinct from in-ground pools in that they may be relocated to any place of your choosing. Despite this mobility, however, above-ground pools still need a certain level of care and maintenance in order to remain clean and risk-free for use.
The swimming pool market is exploding with innovative new goods and newly designed pool accessories, all of which are meant to make the process of owning an above-ground pool simpler.
Take a look at some of the most interesting above ground pool accoutrements that are available for above ground pools, as well as the reasons they are ideally suited for an above ground pool.
Lighting
To contradict what many people believe, it is possible to set up in-ground style illumination in an above ground pool, and you may even do it on your own! Lighting your swimming pool not only makes it safer for swimmers, but it also makes it more appealing and attractive to guests.
Owners of above ground pools have access to a diverse inventory of lighting pool accessories, which may include the following:
Simple illumination with halogen
Simple illumination using LEDs
Lighting that changes color
Lighting based on rechargeable LEDs
Lighting from the sun
You may even discover bluetooth speakers that float and fountains that are submerged in water that put on amazing light displays that are sure to excite your visitors.
Robotic Cleaners for Swimming Pools
Are you sick of having to clean your pool each and every day of the hot summer months? You may want to think about purchasing a robotic pool cleaner. These cleaners will scour the bottom and alcoves in your pool, saving you the time it would take to vacuum the pool.
The following are characteristics of today's greatest robotic pool cleaners:
Capabilities for scanning as well as navigation
Conservation of energy
A structure that is light and simple, making it easy to lift
These machines will move around your pool and clean and filter it, eliminating the need for you to spend a lot of time scrubbing and scraping "gunk" from your pool. They will accomplish this by traveling around the perimeter of your pool.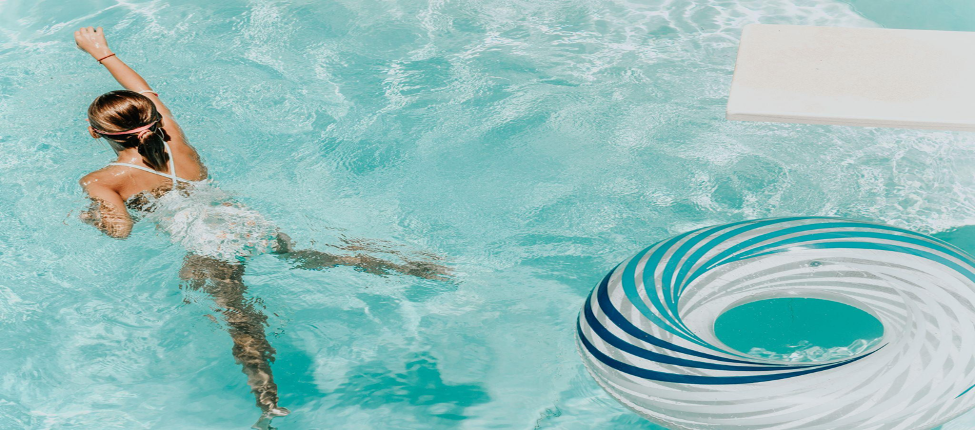 UV Sanitizers
The use of ultraviolet (UV) sanitizers is a more natural and less hazardous alternative to chlorinated swimming pools. These systems disinfect the water in your pool by killing up to 99.9% of the disease-causing bacteria and germs that may develop in swimming pools.
In addition to lessening the frequency with which you have to add chemicals to your pool, ultraviolet light (UV) sanitizers (https://en.wikipedia.org/wiki/Swimming_pool_sanitation) are also quite inexpensive to run on a daily basis. They are also known to be effective against certain water-borne diseases while chlorine is ineffective against them.
Fountains
This item should be at the top of your list of pool accessories if you want to host evening gatherings of guests. The addition of a fountain is the single most spectacular thing you can do to spice up the appearance of an above-ground pool (particularly if it comes with a lightshow!). Any garden may be transformed into a soothing getaway with the addition of fountains because of the visual and aural atmosphere they provide.
The following are a small sampling of some of the many distinct kinds of fountains that may be installed in above-ground pools:
Stationary
Floating
Spinning
The installation of any fountain is pretty simple, and the most of them can be operated via remote control. Often, they come with lights pre-installed, or you can pick up a do it yourself lighting kit that will turn a fountain into an experience. Fountains are generally fairly easy upkeep as well, so it isn't as though you're signing up for a great deal more work by installing one. In fact, the movement of the water may assist in reducing algae buildup.
Heater for the Pool
Pool warmers are an addition that first-time pool owners often forget to purchase for their pools. However, installing a pool heater may greatly lengthen the swimming season, allowing you to enjoy the water from beginning of spring all the way through the middle of fall.
Patios and decking
Decking and patios can now be fashionable additions to any backyard, and not just with an in-ground swimming pool. For a definition of decking and a few examples, click here. Decks for above-ground pools are becoming more and more popular, and there is a wide variety of impressive design options available to choose from, including redwood, cedar, and oak.
Because these materials can withstand being splashed with potable water without showing signs of wear, composite lumber and plastic decking have become the most popular choices for decking materials in recent years. The exposed surface area of an above-ground pool can also be encased in stone or wood to give the pool the appearance of being more seamless and blended.