Elation Health's Electronic Health Record (EHR) software, Elation, is a cloud-based platform designed to streamline healthcare practice operations and patient care. With a host of features and an intuitive user interface, it promises to enhance the day-to-day running of medical practices. This review will delve into its key features, benefits, and suitability for different practice sizes.
Key Features
Elation provides a multitude of features aimed at making the medical practice workflow smoother and more efficient. These features include: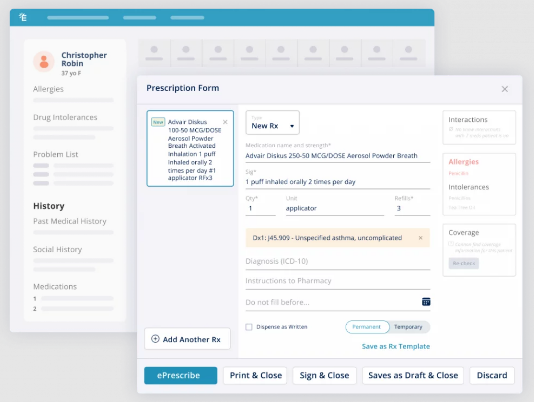 24/7 Premium Support:
Assuring that help is always available when needed.
Intake Forms:
Delivering structured data that the practice can act upon.
Online Self-Scheduling: Allowing patients to schedule their appointments online.
e-Fax, e-Rx, and e-PCS:
Offering digital solutions for faxing, prescribing, and other necessary tasks.
Lab Interfaces:
Enabling seamless integration with lab results and data.
Patient Portal:
Providing patients with access to their health records and appointment schedules.
Free Implementation:
Allowing practices to get started with the software at no additional cost​1​.
One of the standout features of Elation is the cockpit view. This unique feature eliminates the need for clicking back and forth between screens. Doctors can chart, prescribe, and order lab tests all from the same screen. This integrated view simplifies the workflow, saving valuable time. Additionally, Elation's dynamic problem list feature automates data entry, further streamlining office operations​1​.
Collaboration and Training
Elation also offers tools for collaboration among colleagues. It integrates with the National Provider Identifier (NPI) database, eliminating the need for manual lookup of referral information and copying charts. This integration allows practitioners to view and trend lab values, providing an overview of an entire patient panel and enabling quick identification of trends​1​.
One of the highlights of Elation is that it requires no long-term commitment, as users aren't tied into minimum-length contracts. The software is designed to be user-friendly, and the training provided by Elation takes no longer than an hour, with opportunities for frequent iterations if needed. Moreover, they offer premium support 24/7, and urgent inquiries are responded to within 30 minutes​1​.
Software Features Here's a look at the software features provided by Elation:
Feature
Appointment Management
Clinical Workflow
Document Management
Lab Integration
Medical Templates
Patient Demographics
Patient History
Patient Portal
Referrals
Reporting and Analytics
Scheduling
Suitability and Compliance Elation is a cloud-based platform and is accessible via an iOS app, making it a versatile choice for many healthcare providers. It's also equipped to handle multi-office setups, providing a unified system for practices with multiple locations.
When it comes to compliance, Elation ensures adherence to the Health Insurance Portability and Accountability Act (HIPAA), the International Classification of Diseases (ICD-10), and Health Level Seven International (HL7) standards. This ensures that patient data is securely stored and managed, providing peace of mind for both providers and patients.
Elation is suitable for a wide range of specialties, including Cardiology, Endocrinology, Family Medicine, General Practitioner, Internal Medicine, Nephrology, Obstetrics and Gynecology, and Pediatrics, among others. The software is scalable and can accommodate a variety of practice sizes.
Whether you're a solo practitioner, part of a small team of 1-10 physicians, a mid-sized team of 11-50 physicians, or a large team of over 50 physicians, Elation can effectively meet your practice's needs.
| Delivery Platform | Additional Information | Compliance | Specialty | Practice Size |
| --- | --- | --- | --- | --- |
| Cloud | iOS App, Multi-Office | HIPAA, ICD-10, HL7 | Cardiology, Endocrinology, Family Medicine, General Practitioner, Internal Medicine, Nephrology, Obstetrics and Gynecology, Oncology and Hematology, Pediatrics | Solo Practice, 1-10 Physicians, 11-50 Physicians, Over 50 Physicians |
Conclusion
Elation EHR is a comprehensive and user-friendly software designed to streamline office operations and enhance patient care. With its intuitive cockpit view, dynamic problem list, and collaborative tools, it significantly simplifies the healthcare workflow.
Additionally, it offers flexibility with no minimum-length contracts and provides quick and effective support. Its versatility in accommodating various specialties and practice sizes further solidifies its position as a reliable choice for healthcare practices. Whether you're a solo practitioner or part of a large team of physicians, Elation EHR could be a valuable addition to your practice.