MedEZ is a comprehensive electronic health record (EHR) and billing suite that caters to a wide range of medical facilities, with a special emphasis on behavioral health centers and substance abuse rehabilitation programs. It offers both on-premise and cloud-based deployments, making it a flexible solution for different types of healthcare practices.
Key Features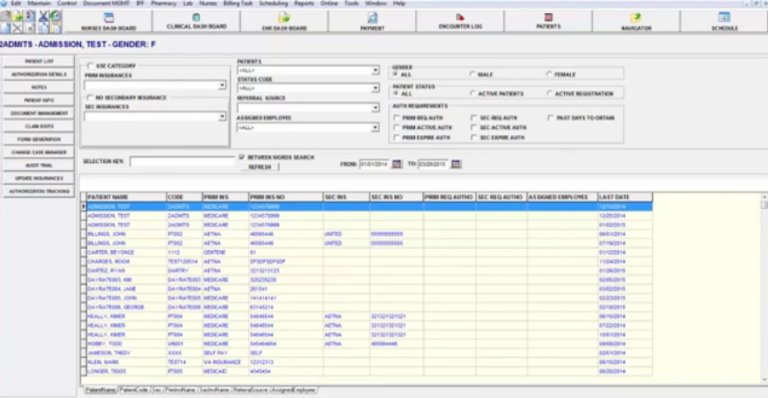 The software boasts a variety of key features that aim to streamline the day-to-day operations of healthcare practices. These features include single and multiple-doctor scheduling screens, resource schedules, email and text notifications, a waiting list, and group appointments. Additionally, MedEZ provides HIPAA-compliant patient records, documentation, practice management, a patient portal, and billing. Clinicians can take notes, record billing codes, manage documents and DICOM images, retrieve and store lab results, and manage pharmacy inventory. There is also a billing feature that allows users to create hard-copy and electronic claims in CMS1500 and CMS1450 formats.
Additionally, users can manage co-pays, deductibles, and adjustments. The software also includes revenue cycle management, claims tracking, utilization review, and cost reporting tools, further enhancing its robustness as a healthcare practice management solution.
Software Features
Here is a summary of the software features in an easy-to-read format:
Software Features
Appointment Management
Billing Management
Clinical Workflow
Document Management
Insurance and Claims
Lab Integration
Medical Templates
Patient Demographics
Patient History
Patient Portal
Referrals
Reporting and Analytics
Scheduling
Voice Recognition
e-Prescription
Compliance and Delivery
MedEZ is fully compliant with HIPAA, ICD-10, CPT, and HL7 standards. The software is delivered via cloud-based and on-premise platforms, providing users with flexibility depending on their specific needs and infrastructure. Additionally, it is available as a web app, making it easily accessible from any device with an internet connection.
Specialty and Practice Size
The software is primarily designed for mental and behavioral health practices. However, it can cater to a wide range of practice sizes, from solo practices to large practices with over 50 physicians.
Conclusion
In conclusion, MedEZ is a versatile and feature-rich EHR software that brings a lot of value to healthcare practices, particularly those in the mental and behavioral health sector. Its comprehensive feature set, coupled with its flexible deployment options and robust compliance, make it a reliable and efficient tool for managing patient records,clinical workflows, and billing. With MedEZ, healthcare practices can streamline their operations, enhance patient care, and improve their overall efficiency.