EyeMD EMR is a dynamic software system designed with general practices in mind, but particularly tailored to meet the needs of ophthalmologists. This comprehensive review explores the features, benefits, and considerations of EyeMD EMR software.
Overview
EyeMD EMR provides a single interface that promotes easy adoption across multiple departments, offering healthcare providers access to full patient data and diagnostic test results. This system can work alongside an existing practice management system, importing patient and appointment data into its dashboard​.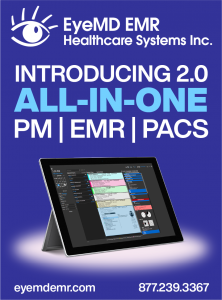 Features and Benefits
Comprehensive Data Management
EyeMD EMR software integrates seamlessly with an existing practice management system, allowing practices to import all patient data and appointment information. It automatically suggests charges per patient and exports this data back to the existing practice management system. Additionally, it supports the import of notes from Medinotes​.
Mobile Integration
EyeMD EMR comes with a dedicated mobile application and the main system has been optimized for mobile use, enabling it to run smoothly on smartphones and tablets. This feature allows healthcare providers to access patient data anytime, anywhere​.
Specialized Templates
EyeMD EMR offers specialized and customizable templates which facilitate updating and managing workflows, tracking patients, and assigning tasks. This flexibility allows practices to tailor the software to their specific needs and workflows​​.
Software Features
EyeMD EMR incorporates an array of features that enhance practice management, including:
Key Features at a Glance
| Feature | Description |
| --- | --- |
| Document Management | Manage all your documents in one place. |
| EM Coding | Automatically suggests charges per patient. |
| Lab Integration | Seamlessly integrates with labs for smooth operations. |
| Medical Templates | Specializedand customizable templates for various needs. |
| Patient Demographics | Manage patient demographics data efficiently. |
| Patient History | Access and manage patient history records easily. |
| Reporting and Analytics | Generate insightful reports and analytics for better decision making. |
| e-Prescription | Facilitates electronic prescription for efficient patient service. |
Product Details and Compliance
EyeMD EMR is an on-premise software, meaning it is installed on the practice's servers. It operates a push synchronization server to ensure remote access to the most up-to-date information. EyeMD also provides a free server monitoring service. It has an Android app for mobile access and supports multi-office operations. The software complies with ICD-10, a standardized system for diagnosing and managing diseases​​.
Suitable for Practices of All Sizes
Whether you're a solo practitioner or part of a large group of physicians, EyeMD EMR caters to your needs.
It is designed to adapt to:
Solo Practice
1-10 Physicians
11-50 Physicians
Over 50 Physicians​1​
Conclusion
EyeMD EMR is a robust software system that brings a plethora of features to simplify and enhance the management of healthcare practices, particularly for ophthalmologists. Its comprehensive data management capabilities, mobile integration, specialized templates, and other features make it a valuable tool for practices of all sizes. As with any software solution, it's important for each practice to consider its specific needs and workflows when deciding whether EyeMD EMR is the best fit.