Who does not knows that destination weddings are trending nowadays and a great number of couples are looking forward to it. A destination wedding is a beautiful opportunity for couples to celebrate their marriage ceremonials at a gorgeous and amazing destination of their choice. And, nothing can be royal and splendid than having a destination wedding at Udaipur.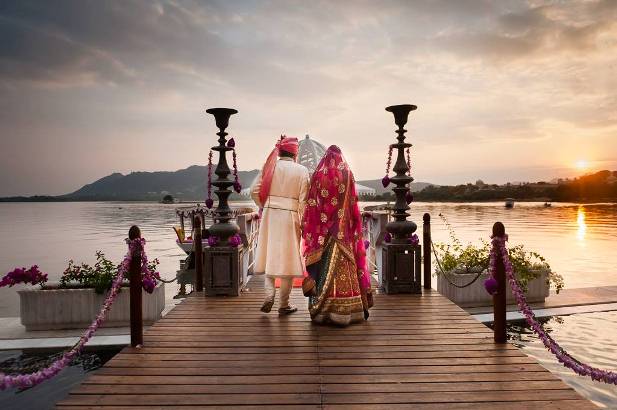 Udaipur is truly famous for its beautiful lakes and watercourses. It is often known as the city of lakes. Your friends and family will cherish lovely memories of a destination wedding at Udaipur. The lakes make a perfect backdrop for a romantic wedding setup. Udaipur is a beautiful city of Rajasthan which somewhere lies near the Gujarat and Madhya Pradesh borders. Udaipur thoroughly surrounded by beautiful mountains which gives a complete feel of a hill stations to the wedding couple and guests. It is additionally famous for its heritage and culture. The multi-dimensional place makes Udaipur a perfect choice for a destination wedding.
The Destination wedding at Udaipur is cherished throughout the Indian subcontinent because it is a relaxing and a romantic tourist spot.
Also Try The Marriage Counseling Sessions from Askmile to have beautiful relationship ahead.
Destination Wedding At Udaipur
City Palace

It is a true reflection of a typical Royal Rajasthan. City Palace is a combination of many buildings and towers and is also called as a Palace Complex in a common parlance. It is owned by the royal Mewar family of Udaipur. The mesmerizing architectural decors of the location are truly stunning. The crystal gallery, the vintage car museum, Daawat-I-Aam, Daawat-I-Khas, Maharani Palace etc are considered to be major attractions of City Palace. Visitors also like to see and enjoy the very symbolic Mewar Light and Sound Show that is organized every evening at city palace. Those who are looking for a dream destination wedding at Udaipur can select City Palace as their first choice.

Lake Pichola

Who would not like to have a romantic wedding ceremonial at an island?

Onlookers have been getting always get awestruck by the amazing beauty of the Lake Pichola. This beautiful lake is a dream destination for many young couples. It is a 4kms long artificial lake and is considered to be one of the most beautiful creations by the almighty. Visitors enjoy taking a relaxing boat ride on Lake Pichola which commences from Rameshwar Ghat which is in the City Palace.The lake has dual dropping islands namely Jagniwas and Jagmandir. At Jagniwas Island visitors can fall in love with another famous royal place in Udaipur, known as the Lake Palace (renamed as Taj Lake Palace). Jagmandir Island offers a splendid visit to the famous Jag Mandir which is again a palace.

Lake Palace

The Astonishing Lake Palace is built on Lake Pichola and is a frequently visited tourist spot in Udaipur. It is royally located on Jagniwas Island which is functioned by the Taj groups. Hence, it is popularly called as Taj Lake Palace. With the Aravalli Hills in the backdrop, Lake Palace gives a picturesque view, and it is undoubtedly the best place for destination weddings at Udaipur. You can also take a walk of this heritage hotel in case you are planning to prolong your stay. Maharaja Jagat Singh II built this royal beauty.The place is popular for its elegant and graceful architecture that consists of gilt moldings and engrossing sculpted marble. You can redefine your romance at the marvelous Lake Palace.
Saheliyon Ki Bari

The Garden of the Maidens' is the literal meaning of Saheliyon ki Bari. This marvelous beauty was built by Maharana Bhopal Singh. This alluring place is located in the northern part of the city.The elephantine place was built for the maids who accompanied the Princess of Udaipur as a part of the dowry. Saheliyon ki Bari was one of those places where the maids could have a gala time, and indulge in refreshing activities. The garden consists of graceful fountains, kiosks, marble elephants and a lovely lotus pool. It is one delightful place where destination wedding at Udaipur can take place.

Bagore Ki Haveli

It is one of the most magnificent places that is truly a treatfor your eyes. Bagore ki Haveli is located on Lake Pichola and it offers the best view of the lake. It is popular for its graceful architecture.The Haveli has a stupendous structure which offers a sneak peek inside the kingly life of the Maharajas and the Maharanis. This massive structure has 100 rooms and each room has an exquisite decoration with beautiful mirror works. You can also take a look at the royal jewelry boxes, hikes, pan boxes, nutcrackers, rose water sprinklers, paintings of Mewar, and beautiful peacocks, which surely invites us to the retro royal era.
Monsoon Palace/Sajjangarh Palace

This marvelous beauty is located at a distance of about 9kms from the Old City of Udaipur. As its name suggests this splendid palace was once the favorite stopping place of the royal family during the annual monsoon seasons. The palace rests upon a hill and appears quite a lot similar to the fabricated castles that we see in fairy-tale books. If you are among those who want a fairy tale style wedding, then plan your wedding atSajjangarh Palace without thinking twice. Besides, the traditional and epitomic beauty, it also lets you access the sublime sunset view.
The best part about planning a destination wedding at Udaipur is that it is well connected with Delhi and Mumbai International Airports. You can also visit the official Rajasthan Tourism place website for better understanding. There are routine flights, trains, and buses which would simply the complexity involved in a destination wedding. It is easy for the Gujarati families to reside their guests at Udaipur.
You can also choose to book an authentic and traditional Udaipur hotel as per your budget. Udaipur is a less crowded and a clean-green city. A destination wedding at Udaipur is specifically for those who are looking for a majestic and heritage wedding location. The exquisite beauty of the city serves as the best place where things can be keenly organized. Besides, the traditional side, Udaipur is also a fully equipped with contemporary facilities. It has no shortage of technicality or civility.
Once you have settled on a location, you can accommodate your guests to the nearby lodges so that they can have handy access to everything.